The World's Hottest Chile Peppers

Red Savina Habanero

Ghost Pepper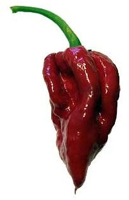 Naga Viper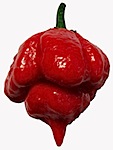 Trinidad Scorpion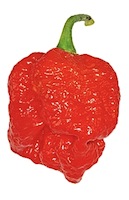 Moruga Scorpion
New World Champ!
The Naga Jolokia has been tested at over 1,001,300 Scoville heat units! Almost twice as hot as the old champ, the Red Savina Habanero.
Where did it come from?
A pepper by any other name is still as HOT...
Naga Jolokia is also called Bih Jolokia in some places of Assam (Bih = Poison, Jolokia = chile pepper; in Assamese). Other names are Bhut Jolokia (probably due to its ghostly bite or introduction by the Bhutias from Bhutan poison chile), Borbih Jolokia, Nagahari, Nagajolokia, Naga Morich, Dorset Naga (from a farm market in the UK), Naga Moresh, Raja Mirchi (the king of chiles) and Ghost Pepper (because after eatin one you "give up the Ghost"). These are all the same chile but named differently in different places (a common problem when trying to identify chile peppers). There often is are slight plant/pod variations in the different geographical locations due to selective harvesting of seeds. Over time this can produce different fruiting characteristics and fruit shape. The Naga name may be due to extreme hotness represented by the aggressive temperament of the warriors of neighboring Naga community. Chile is known as Morich in Bangla.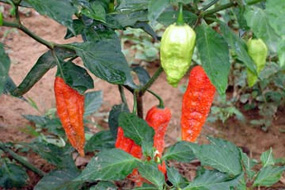 Naga Jolokias growing at Frontal Agritech
Naga Jolokia, 1,041,427 Scoville units.
In 2000, scientists at India's Defense Research Laboratory (DRL) reported a rating of 855,000 units on the Scoville scale, and in 2004 an Indian export company called Frontal Agritech obtained a rating of 1,041,427 Scoville units, which would mean a new world record, being over twice as hot as the Red Savina Habanero pepper and roughly equal to the similar-looking Dorset Naga, which is derived from the Naga Jolokia (C. chinese) a variety grown in West Bexington, Dorset, England. It was claimed in March 2006 to be the world's hottest chile at 876,000 and 970,000 Scoville heat unit. It was developed by Michael and Joy Michaud from the Naga Morich or Naga Jolokia chile, cultivated in Bangladesh that they purchased at an Indian market in England. It is not clear wether this variety is different in any significant way from the original pepper from which is was developed. For a short period of time it was the hottest chile pepper in the world. It is now the second hottest pepper in the world at 876,000-970,000 Scoville units.
More about the Bhut Jolokia (PDF):
Naturally Occurring Interspecific Hybridin
The real question remaining is why did Dr. Paul Bosland (shown below), Director of the Chile Pepper Institute at the New Mexico State University criticize with great skepticism and not accept the findings of the Indian scientists from DRL in 2000 and Frontal Agritech in 2004? Dr. Bosland had obtained Naga Jolokia seed in 2001 and been growing them for 5 years saying nothing to shed light on the pepper until he submitted his variety for testing and was crowned by Guinness World Records as the hottest in the world and he was the one that "discovered" it.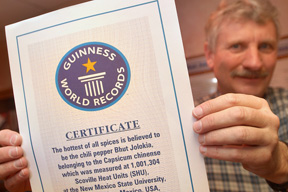 Paul Bosland With Guinness World Record Certificate
"... test results can have a wide range."
One thing to keep in mind is that the same pepper grown from the same seed stock can very greatly in Scoville heat units from year to year. This is caused by climate, weather and soil conditions that change each growing season. This is why test results can have a wide range. To some real degree the hottest can come down to how much rain and 90F+ degree weather or lack thereof your crop receive compared to your competitor.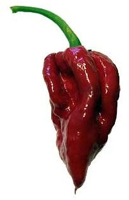 Naga Viper
News Flash - 12/1/10 - There may be a new world record heat level set for chile peppers. It is reported that Gerald Fowler, who runs a chili pepper company in Cumbria, England has produced a chile pepper he calls the "Naga Viper", measuring at a whopping 1,359,000 SHU.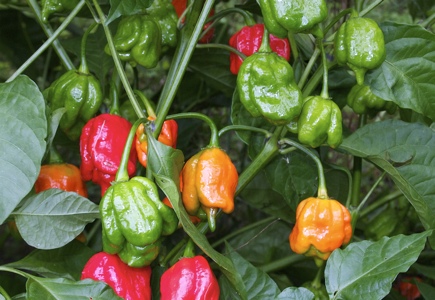 Trinidad Scorpion
Three month later, March 2011, a Trinidad Scorpion chile pepper grown in New South Wales, Australia, was tested and according to Guinness World Records, is currently the hottest chile pepper grown. It measured 1,463,700 SHU!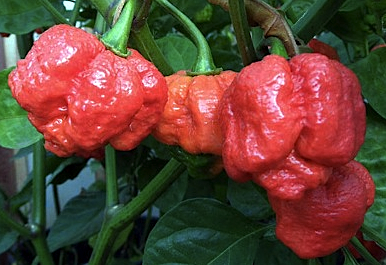 Moruga Scorpion
The Moruga Scorpion pepper was declared world's hottest pepper by New Mexico State University in Feb. 2012, with a SHU range between 580,198 and 2,009,231. This is the first pepper recored to exceed 2,000,000 Scoville heat units. Altho fruits from an individual plant did reached over 2 million heat units, unfortunately, it did not qualify for the Guinness World record "Hottest Chille". Also the 2 million SHU test has not been duplicated.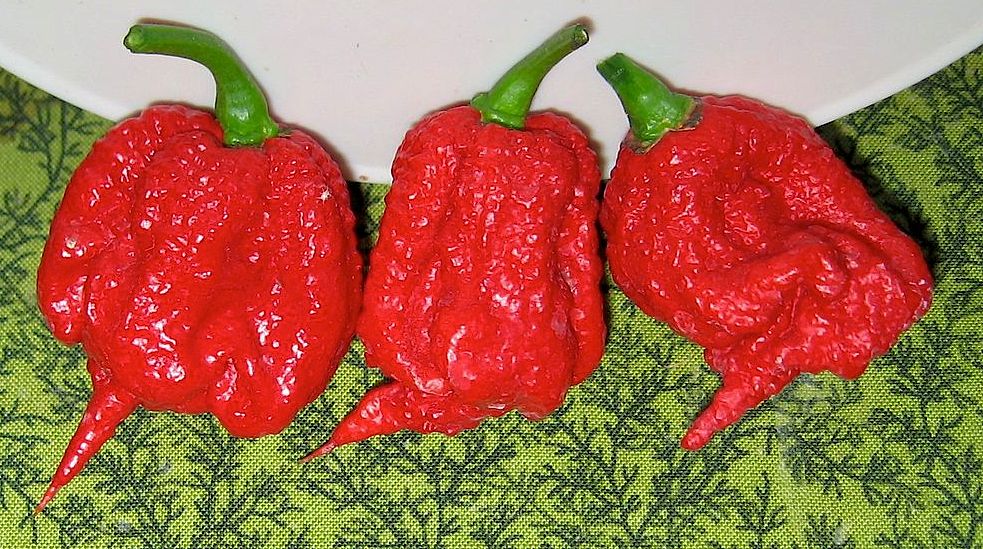 Carolina Reaper
The Carolina Reaper, a hybrid of the Capsicum chinense species, was first named "HP22B". It was created by Ed Currie who runs PuckerButt Pepper Company in Fort Mill, SC. The Carolina Reaper was rated as the world's hottest chili pepper by Guinness World Records according to a 2012 tests, averaging 1,569,300 on the Scoville scale with peak levels of over 2,200,000. These peppers are very much like the Trinidad Scorpion in appearance and flavor. Ed has stated that he "stumbled apron" the nutrients that increase a peppers heat. So one must assume that without using these nutrients, a home grower will not be able to produce the same heat level when raising Carolina Reaper in the back yard garden. But perhaps the required nutrients are already present in your soil. So if you want the hottest of the hot give them a try.

Order Uncle Steve's: Naga Jolokia Seed Chile Powder Naga Jolokia Peppers
Still need more
HOT

Chile Pepper information?

Check out the "Pepper History" page.
Check out the "Chile Heat Scale" page.
Who was Wilbur Scoville?
Hot Chile Pepper Medical Uses.
The "Hot Sauce Heat Scale" page.
Uncle Steve's
HOT

Stuff
Fredericksburg, VA