About Uncle Steve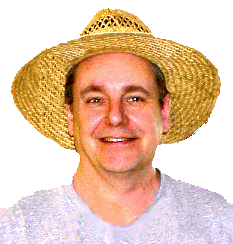 My family grows, hand picks, washes, inspects, stems, dries and smoke-dries 15 to 20 different varieties of mild, hot, extream hot and ornamental chile peppers each year. We always grow Habaneros, Piquin, Tepin and Jalapeno, our favorites, as well the world's hottest chiles. Our micro farm is located in south Stafford, VA (Fredericksburg). If you have a trip that leads you close to our location (only 6 miles off I95) please stop by and visit. (Email us first to make sure we will be home).
What we have to offer differs from year to year. It depends on what we planted and weather conditions. The heat level of our hot/mild mixes can also vary each year due to weather and growing conditions too. All ingredients in our chile powders, spice mixes and hot sauces we sell, are grown by us. We are about 99% organic growers.
The majority of our crop is dried, Hickory-smoked dried then made into gourmet chile powders and spice mixes. We only sell fresh Chiles for a short time (mid August - mid September). We try to maintain stock of the most popular Chiles. However, some sell out, even though we try to grow more and more each year. The money we make goes for seed, garden equipment, repairs, fertilizer, etc. For us, its a hobby that pays for itself and we get to meet new people that enjoy hot foods.
You can take a walk on the wild side and enjoying the extream heat and bursting flavors of gourmet chile powders by ordering a sample container of any two in stock Hot dried chile powders (packaged in a convenient pocket sized travel container) for only $10.00. Most are mighty hot, so use only a little at first. You can always add more later. Use the dried and smoked-dried chile powers as a sprinkle on spice over salads, soups, stews, etc. and as an ingredient for sauces, rubs on meats or making your own chili powder or Jerk sauce. Let me know what you think after you have tested it on a few things.
We also sell Hot Pepper Seeds. If you enjoy vegetable gardening, we have a varity of Chile Seeds with different heat levels to spice up your life and several ornamentals for the landscape growers too. Many of the ornamentals make beautiful year round house plants that produce colorful, eatable fruit.